In 2013 we released our eye-popping video, "Beyonce, The Super Bowl, Sasha & Satan" on YouTube documenting Beyonce and Jay-Z's promotion of blatant Satanism. Tragically, Beyonce still has not repented of her wickedness and she is only growing worse. The narcissistic and self-deification of the world's top pop stars is becoming more obnoxious and toxic with every passing day. This is par for the course, as the Lord revealed in His Word that "in the last days" men would be "lovers of self" (2 Timothy 3:1-7) and "mockers" of the one true God and His Word (2 Peter 3:3).
Beyonce, believe it or not, managed to mock Jesus Christ and exalt herself as though she were God…all in the same photo! Just as the New Year was coming to a close, a scantily clad Beyonce posted an Instagram snapshot of herself sitting seductively in front of a painting of Jesus and His disciples at the "Last Supper." [Click Here to see a large version of the photo] The most blasphemous thing about the photo, however, is that Beyonce positions herself directly in front of Jesus in the depiction, effectively blocking Him out as though she is taking His place. God warns us in the Ten Commandments, "You shall not take the name of the LORD your God in vain, for the LORD will not hold him guiltless who takes His name in vain" (Exodus 20:7). Beyonce's pretentious supplanting of Christ with herself in the Lord's Supper is perhaps the worst way that one could take God's name in vain.
One of the blasphemous phenomenons throughout the history of pop, rock and rap music is for the "star" to exalt him or herself above the one true God. John Lennon not only claimed that Christianity would "vanish" and the Beatles were "more popular than Jesus," but also consulted with the other Beatles, desiring to go public with his belief that he was the reincarnation of Jesus. All of this is merely a prelude to the rise of the ultimate Antichrist, who will exalt himself above God and demand to be worshipped as God just before Jesus Christ returns in glory (2 Thessalonians 2:1-12).
Of course Beyonce is not Jesus, even though she appears to be impersonating him in her Instagram snapshot. Sadly, though, millions of people today worship countless pop-stars in place of their Creator. Beyonce would have been more realistic if she had placed herself in front of Judas Iscariot because, like Judas, Beyonce has long betrayed her claim to faith in Christ for a bag full of money.
Beyonce's latest blasphemy against Christ is par for the course, as her husband Jay-Z refers to himself as "Jay-Hova," which is short for Jehovah, the name of God. In concerts, Jay-Z basks in worship as his audiences shout to him "Hova! Hova! Hova!" while they are holding up the Satanic eye of Horus symbol above their heads.
Beyonce and Jay-Z's partner in blasphemy, rapper Kanye West, titled his latest album with the blasphemous moniker 'Yeezus.' Yeezus is Kanye's profane amalgamation of his own nickname "Yeezy" and the name of the Lord Jesus!
In Jay-Z and Kanye West's collaboration, "No Church in the Wild," Jay-Z compares Kanye West and himself to Jesus while diminishing Jesus to solely a carpenter:
Jesus was a carpenter
Yeezy, laid beats
Hova flow the Holy Ghost
Get the hell up out your seats
One of the songs on Kanye's "Yeezus" album is entitled "I Am a God." In the song Kanye pictures himself enthroned next to the most high God, rapping:
I am a god
Hurry up with my damn massage
Hurry up with my damn ménage
Get the Porsche out the damn garage…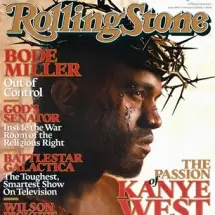 Kanye has previously stooped to such blasphemy as impersonating the crucified Christ on the front cover of Rolling Stone Magazine by wearing a crown of thorns. Jesus warned that in the last days before His return that false Christ's and false prophets would arise, deceiving many (Matthew 24:4-24). Today, the spirit of Antichrist is using pop stars to delude hundreds of millions fans who idolize them. Many of their fans hang on their every word, put them before the Lord Jesus Christ and follow them as role models down the road to perversion and destruction.
Satan always wanted to be like the most high God and even sought to exalt himself above the throne of God:
"How you are fallen from heaven,
O Lucifer, son of the morning!
How you are cut down to the ground,
You who weakened the nations!
For you have said in your heart:
'I will ascend into heaven,
I will exalt my throne above the stars of God;
I will also sit on the mount of the congregation
On the farthest sides of the north;
I will ascend above the heights of the clouds,
I will be like the Most High.'
Yet you shall be brought down to Sheol,
To the lowest depths of the Pit" –Isaiah 14:12-15
Incredibly, Beyonce's husband Jay-Z even has a song entitled "Lucifer," where he praises Lucifer for supposedly sinning with a righteous cause:
Lucifer, Lucifer, dawn of the morning…
He got them dark forces in him
But he also got a righteous cause for sinning…
One thing is for sure, Jesus Christ is God and Beyonce is not! Every breath that Beyonce draws depends on God's gracious provision and permission, even those she may use to blaspheme His name. God is clear in His Word that one day soon, Beyonce, Jay-Z, Kanye West and everyone else, will bow down and proclaim Jesus Christ as Lord of all, whether they are in heaven, on earth or in hell:
"Therefore God exalted him to the highest place and gave him the name that is above every name, that at the name of Jesus every knee should bow, in heaven and on earth and under the earth, and every tongue acknowledge that Jesus Christ is Lord, to the glory of God the Father" –Philippians 2:9-11
The real question is: where will you be when you are declaring Jesus as Lord? If you declare Him Lord now, you will do it for eternity in His awesome presence and glorious kingdom. If you refuse Him as your Lord now, you will still confess Him as Lord in eternity, however, you will be separated from His glorious presence, where there is weeping and gnashing of teeth forever in hell. Jesus warned that you are either for Him or against Him. He leaves us no middle ground of compromise, "Whoever is not with me is against me, and whoever does not gather with me scatters" (Matthew 12:30). The life we now live is temporal and will soon be over. We earnestly hope and pray that you will bow before the Lord Jesus Christ now as your Lord and Savior so that you can enjoy His glorious kingdom forever. Pray for Beyonce and all those whom Satan is deluding so that they might be delivered from Satan's power and God's holy wrath!