Just a month after Justin Bieber made headlines for allegedly groping a Playboy Bunny, and amidst another potential scandal wherein a teen model, by the name of Bailey Scarlett, claimed he hit on her after her drink was allegedly drugged at a party he hosted in Melbourne Australia, he is in the headlines again for his claim to be a Christian. Beiber was baptized last year after a video of racist remarks became public and many wondered if it was simply damage control or a public relations offering. In Bieber's latest potential scandal, with regard to the teen he allegedly hit on after she had allegedly been drugged at his party – whether her drink was drugged or not – do Christians have parties where they serve teens Vodka?
As Christians we are warned by Jesus not to judge hypocritically (Matthew 7:1-2), "but judge with righteous judgment" (John 7:37). The apostle Paul warned that Christians are to judge those in the church, lest they pollute or "leaven" others in the assembly: "Do you not judge those who are within the church?" (1 Corinthians 5;12). Paul stated:
"But actually, I wrote to you not to associate with any so-called brother if he is an immoral person, or covetous, or an idolater, or a reviler, or a drunkard, or a swindler—not even to eat with such a one." (1 Corinthians 5:11)
Christians are commanded to expose the works of darkness (Ephesians 5:11). Paul said he would not drink if it caused just one brother to fall away and perish (Romans 14). When potentially millions of young professing Christians are in danger of falling away because of Bieber's perpetual wicked example, those who care for their brethren must sound the alarm.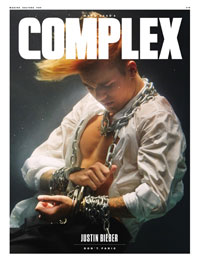 In an interview with Bieber for a Complex Magazine cover story, Bieber went on a rant against preachers and churches that preach repentance and warn against hell. He claimed that such preaching was a turn off for the world and doesn't correctly portray the message of Jesus. However, no one in the bible is seen warning about sin, its consequences in hell and a need to repent more than Jesus Himself! Jesus warned repeatedly "Unless you repent, you will all likewise perish" (Luke 13:3, 5). Jesus spoke both of His sacrifice for our sins (John 3:16) and the need to preach repentance for the remission of sins (Luke 24:47).
Jesus warned that the world loved darkness more than light and would largely reject His message (John 3:9,19-20) and knew that those who love their sin would be turned off to the truth. One of His greatest concerns was that those who professed faith but had not really repented would misrepresent Him to the world (Matthew 15:8; 2 Peter 2:1-4) The greatest turn off for the world are those who do not walk their talk and Jesus called them hypocrites.
In the past, Bieber has been found guilty of assault, has been arrested and jailed. Bieber pleaded no contest to vandalism and paid thousands of dollars for pelting a neighbor's home with raw eggs, with whom he was angry. Following a raid on Bieber's Calabasas mansion in California, which was reported to have been "littered with drugs, and drug paraphernalia," he was arrested for possession of Xanax and Molly (ecstasy). Beiber was claiming to be a Christian prior to these offenses and even unveiled a tattoo of "Jesus" on his leg in a Rolling Stone interview!
>On the popular television show The View, after the genuineness of Bieber's faith came into question (for obvious reasons), Candace Cameron-Bure came to Beiber's defense and said, "When someone says they're a Christian, it doesn't mean they're perfect. They are just a recognized sinner in need of God's grace. And that's all Justin is saying. He recognizes that…But he has the chance to make good decisions, and we should applaud him and encourage him to continue to be a good role model if that is what he is choosing to do."
"You Will Know Them By Their Fruit"
While it was good for Candace to point out that Christians do not claim to be perfect, I don't see how Beiber can "continue to be a good role model" when he has yet to even begin to be a good role model. (You can't continue to do something that you haven't yet begun.) It would have also been good if Candace had shared that true Christians are more than merely "just a recognized sinner[s] in need of God's grace." While true, God's Word is clear that genuine Christians, owing all to God's grace, are far more than "just a recognized sinner in need of God's grace." Genuine believers are new creations in Christ and old things have passed away and all things become new:
"Therefore if anyone is in Christ, he is a new creature; the old things passed away; behold, new things have come." (2 Corinthians 5:17)
God's Word makes it abundantly clear that the children of God and the children of the devil are obvious by their behavior:
"By this the children of God and the children of the devil are obvious: anyone who does not practice righteousness is not of God, nor the one who does not love his brother." (1 John 3:10)
Amidst attacking Christians that he believes represent Christianity in the wrong way, Bieber – in this profanity laced interview – said he wants to be a spokesman for Jesus and express his personal faith in his own way. Since Bieber is claiming to be a Christian and many of his 72 million Facebook fans hang on to his every word, it is important that we examine his "philosophy" and examine his fruit in obedience to Jesus' command that we inspect the fruit of those who would speak for Him.
Ray Comfort, who I count as a personal friend, and who has done much excellent ministry in evangelizing the lost and teaching others to evangelize with Kirk Cameron, the brother of Candace Cameron, wrote recently in response to Bieber's claims:
"I can't help but feel a little like [doubting] Thomas. I think it's justified though. Bono has a similar attitude when it comes to Jesus, and he expresses it with his potty-mouth. I'm looking for the fruit of "righteousness." Fruit proves the reality. Then I will believe." –Ray Comfort (Facebook, September 29, 2015)
Jesus warned us that we are to examine the fruit of those who claim to represent Him:
"Beware of false prophets, who come to you in sheep's clothing, but inwardly they are ravenous wolves.You will know them by their fruits. Do men gather grapes from thornbushes or figs from thistles?Even so, every good tree bears good fruit, but a bad tree bears bad fruit.A good tree cannot bear bad fruit, nor can a bad tree bear good fruit.Every tree that does not bear good fruit is cut down and thrown into the fire.Therefore by their fruits you will know them." (Matthew 7:15-19)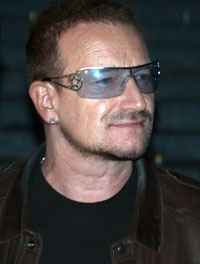 Comfort's linking Bono with Bieber for what appear to be empty confessions of faith is instructive. Bono, who uses upside down crosses and promotes ecumenism between Muslims and Christians, after leading millions of his followers to believe he was a Christian, claimed he wanted to promote the movies of homosexual, Crowleyan Satanist, Kenneth Anger, whose movies almost exclusively promote Satanism and homosexuality. We expose Bono in our video The Emerging Church and the Bono Screwtape Connection.
Ray Comfort's point that he does not see the fruit, that we as Christians are to see in the lives of those who profess Christ in Bono or Bieber, is easily underscored in the words of Bono, who admitted of himself:
"Look, on the God thing, I have to be really careful because I'm not a very good advertisement. I don't want you to sit there and say I'm a man of faith. I just read in one of St. Paul's letters, where it describes all the fruits of the spirit, I realized I had none of them." –Bono, Andrew Denton's "Enough Rope" interview, ABC (Source)
Today Satan is deceiving the church through the infectious message of "cheap grace." Cheap grace is a twisting of the message of the cross to mean that one can receive the forgiveness that Jesus offers, even if you reject His condition of repentance.
John the Baptist, like Jesus, spoke on the imperative of bringing forth fruit in keeping with repentance:
"Who warned you to flee from the wrath to come? Therefore bear fruits worthy of repentance, and do not think to say to yourselves, 'We have Abraham as our father.' For I say to you that God is able to raise up children to Abraham from these stones. And even now the ax is laid to the root of the trees. Therefore every tree which does not bear good fruit is cut down and thrown into the fire." (Matthew 3:7-10)
The apostle Paul stated that when he preached the gospel of Jesus Christ, he declared, "that they should repent and turn to God, performing deeds appropriate to repentance" (Acts 26:20).
Genuine Repentance
Bieber's fruit is not only seen in his actions, but the lascivious lyrics in his music, which glorify the works of the flesh rather than exhibit the fruit of the Spirit. The apostle Paul stated that those who truly belong to Christ "have crucified the flesh with its passions and desires" and bear the "fruit of the Spirit":
"But the fruit of the Spirit is love, joy, peace, longsuffering, kindness, goodness, faithfulness, gentleness, self-control. Against such there is no law. And those who are Christ's have crucified the flesh with its passions and desires." (Galatians 5:2-24)
Genuine Christians experience godly sorrow for their sins, which leads to repentance:
"For godly sorrow produces repentance leading to salvation, not to be regretted; but the sorrow of the world produces death." (2 Corinthians 7:10)
In the same profanity-laced interview with Complex Magazine, Bieber doesn't seem to have experienced godly sorrow, as he states that he is not sorry for the evil things he has done to others and would even do them all over again if he had the chance. We read in Bieber's own words:
"I wouldn't do anything over again. I would do it all the same way. I'm not going to say I'm sorry for the things that I've done because I think that it allows me to tell a story." –Justin Bieber, Complex Magazine, October 2015 (Source)
Those who experience worldly sorrow are only upset because they get caught or can't get away with their sin they are in the habit of doing. They do public makeovers and damage control but they are not sorry for their sins and in time their rotten fruit shows up all over again. Those who experience godly sorrow are deeply grieved within their hearts that they have offended a thrice-holy God and they turn from their wicked deeds and bring forth fruit to God's eternal glory.
We need to be careful of who we accept as spokespersons for Jesus, as the scriptures warn that many false prophets have gone out into the world (1 John 5:1-4). Many Christians are star struck by Hollywood celebrities and musical icons. When a celebrity even hints at being a Christian, many are quick to believe it even though their lifestyles and doctrines contradict biblical Christianity. There is much danger in accepting what one says and ignoring Jesus' directive to examine one's fruit. Our walks must match our talk. We must beware of false professions and false prophets, especially in these last days (Matthew 24).
The Greased Pole to Hell
The false prophets of old failed to warn of the judgment to come, much like Bieber who does not like the message of repentance and judgment. They promoted greasy grace that greased the pole to hell and encouraged their audiences to continue in sin, rather than repent and find life:
"Woe to the shepherds who destroy and scatter the sheep of My pasture!" says the Lord…. Also I have seen a horrible thing in the prophets of Jerusalem: They commit adultery and walk in lies; they also strengthen the hands of evildoers, so that no one turns back from his wickedness. All of them are like Sodom to Me, and her inhabitants like Gomorrah." (Jeremiah 23:1, 14)
"Because you disheartened the righteous with your lies, when I had brought them no grief, and because you encouraged the wicked not to turn from their evil ways and so save their lives." (Ezekiel 13:22)
Earlier this year, before Justin Bieber made his latest proclamation of faith, he made Perez Hilton's list of Top 10 Hardest Partiers in Hollywood (Source) And just reported yesterday (October 1, 2015), Bieber was found partying on stage as he reportedly chugged from a bottle of Hennesy – which is about 40 percent alcohol – and he then proceeded to pour some of it on fans in the front row. (Source)
TMZ reported that the same night he appeared to be hitting on the Hennessy while on stage, he took a joint in one hand while having a cigarette in the other, and then turned his back to the crowd, leading his young audience to believe he was smoking weed. Whether he actually hit on the joint on stage or not, is not the point! The fact that he is glorifying such behavior while claiming to be a Christian is reprehensible! (Source)
Justin Bieber promotes cheap, greasy grace (forgiveness without repentance) and sadly many young people are grabbing on to that greased pole in the name of Jesus and sliding into hell. The Unloving thing to do would be to simply say nothing as they begin their hellish descent. In a recent interview, Bieber said that Christians don't need to be in fellowship with the church, blatantly contradicting the scriptures in Hebrews 10:24-31. These things need to be corrected because he is claiming to speak for Jesus now, and like a pied piper, is leading many of the sheep from the flock to the slaughter.
After Bieber stated that God covers all his rebellious acts by his grace, Complex Magazine asked him, "You said you felt invincible when you were going through your rebellious period. Does your renewed faith make you feel invincible as well?" Bieber responded by saying:
"Yeah. I do. In a different way. I feel invincible like, nothing is bigger than God. If God's for me, who can be against me?" (Ibid.)
However, the passage which Bieber quotes is a promise that is conditional and only applies to those who are abiding "in Christ Jesus our Lord" (Romans 831-38). It does not apply to the unrepentant who are in rebellion to God! In fact, Paul goes on in Romans to warn that those who do not abide in faith will be cut off from the salvation tree:
"You will say then, "Branches were broken off so that I might be grafted in." Quite right, they were broken off for their unbelief, but you stand by your faith. Do not be conceited, but fear; for if God did not spare the natural branches, He will not spare you, either. Behold then the kindness and severity of God; to those who fell, severity, but to you, God's kindness, if you continue in His kindness; otherwise you also will be cut off." (Romans 11:19-22)
Jesus also clearly warned that those who do not "abide" in Him would be cut off:
"I am the vine, you are the branches; he who abides in Me and I in him, he bears much fruit, for apart from Me you can do nothing. If anyone does not abide in Me, he is thrown away as a branch and dries up; and they gather them, and cast them into the fire and they are burned." (John 15:5-6)
It is our hope and prayer that Justin Bieber would get serious about knowing the Lord. Until there is fruit in His life, genuine Christians need to see him as a powerful advertisement for the soul-damning heresy of cheap grace.
Join us in prayer that Justin Bieber and others who profess Christ would truly experience biblical regeneration and bear fruit to God's glory. Justin Bieber's recent collaboration with the perverse rapper Kanye West for his upcoming album, who we also expose, and who claims to be a god, is a pretty good indication that Bieber is still on the broad road that leads to destruction (Matthew 7:13-17). May our Lord Jesus, who wills that all would be saved, reach him and others before it is too late:
"This is good and acceptable in the sight of God our Savior, who desires all men to be saved and to come to the knowledge of the truth. For there is one God, and one mediator also between God and men, the man Christ Jesus, who gave Himself as a ransom for all, the testimony given at the proper time." (1 Timothy 2:4-6)
In His grip,
Pastor Joe Schimmel