For speaking out arrogant words of vanity they entice by fleshly desires, by sensuality, those who barely escape from the ones who live in error, promising them freedom while they themselves are slaves of corruption; for by what a man is overcome, by this he is enslaved. –2 Peter 2:18-19
The final chapter of the Fifty Shades series is set to hit the theaters on Valentine's Day weekend 2018. The culminating film is titled "Fifty Shades Freed" and you would be hard pressed to find a more spiritually ironic title for the motion picture. Tragically, this lie of freedom when it comes to sensuality is part and parcel with the same lies told by the false prophets we are warned about in Scripture (2 Peter 2). Too many believe that if they give in to their sensual desires that they will feel freedom. Homosexuals believe that if they "come out of the closet" and have pride in their sexual sin that they will find freedom and no longer be depressed. But God is clear in His word that this is simply not the case. In 1 John 5 God tells us that His commandments are not burdensome. Jesus said that His yoke is easy and His burden light. He said that He came to give us life, and life more abundantly (John 10:10). The only true freedom is the one that Jesus offers us concerning sin, because where the Spirit of the Lord is, there is liberty. On the contrary, the only way you will be led by giving into your sensual desires is a life of bondage and slavery. The enticing display of sensuality will lead you like an ox to the slaughter. The searing of your conscious will give birth to more and more sin until your sexual needs cannot be suppressed, "Then when lust has conceived, it gives birth to sin; and when sin is accomplished, it brings forth death" (James 1:14).
In Randy Alcorn's book, Purity Principle, he tells a story of a young Christian man named Eric who "brimmed with potential". Eric had grown up in the church and found himself married to a God-fearing woman and even had a little daughter of his own. But according to Mr. Alcorn, that wasn't enough for him, as he placed himself in a situation in which he was destined to fail. As Alcorn records it: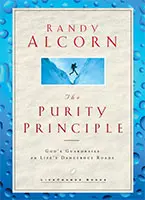 "Eric stormed into my office and flopped into a chair. "I'm really mad at God." Having grown up in a strong church family, he'd met and married a Christian girl. Now he was the picture of misery. "Okay…so why are you mad at God?" "Because," he said, "last week I committed adultery." Long pause. Finally I said, "I can see why God would be mad at you. But why are you mad at God?" Eric explained that for several months he'd felt a strong, mutual attraction with a woman at his office. He'd prayed earnestly that God would keep him from immorality. "Did you ask your wife to pray for you?" I said. Did you stay away from the woman?" "Well… no. We went out for lunch almost every day." Slowly I started pushing a big book across my desk. Eric watched, uncomprehending, as the book inched closer and closer to the edge. I prayed aloud, "O Lord, please keep this book from falling!" I kept pushing and praying. God didn't suspend the law of gravity. The book went right over the edge, smacking the floor. "I'm mad at God," I said to Eric. "I asked Him to keep my book from falling… but He let me down!" To this day, I can still hear the sound of that book hitting the floor. It was a picture of Eric's life. Young, gifted, and blessed with a wife and little girl, Eric brimmed with potential. His story didn't end that day. Eventually he became a sexual predator, molesting his own daughter." (Randy Alcorn, Purity Principle, Multnomah Books, 2003)
You see, every person makes choices on a day to day basis that can have a tremendous effect on the outcome of their life, regardless of how mundane these choices may seem. I am sure that when Eric went out to lunch with this young woman, it did not cross his mind that one day that choice would take him to the precipice of eventually molesting his own daughter. I'm sure that when king David of Israel decided not to go out to war with his comrades and then took a step out to look over his kingdom, he did not know that this would lead to the death of his very own child (2 Samuel 11-12).
While one may think that reading or watching the latest Fifty Shades novel or movie may not hurl them into a spiritual downfall, this wicked deed could be the very tip of the iceberg that leads to a great fall. In the Casting Crowns hit song, "Slow Fade", they document this searing of the conscious in exquisite precision, singing
Be careful little eyes what you see
It's the second glance that ties your hands
As darkness pulls the strings […]
It's a slow fade when you give yourself away
It's a slow fade when black and white are turned to gray
And thoughts invade, choices are made
A price will be paid when you give yourself away
People never crumble in a day […]
The journey from your mind to your hands
Is shorter than you're thinking
Be careful if you think you stand
You just might be sinking […]
People never crumble in a day
Daddies never crumble in a day
Families never crumble in a day
Sin will not simply be content with a slip-up, it will continue to fester. God calls sin leaven because it raises the whole loaf. A man's desire will not be satisfied with simply looking, eventually that wickedness will either be dealt with or it will deal with you. As God says in His word, "Hell and destruction are never full; so the eyes of man are never satisfied." (Proverbs 27:20) In the book of Genesis, we read of the warning that God Himself gave to Cain before he went out and killed his brother "…sin is crouching at the door; and its desire is for you, but you must master it" (Genesis 4:7). 
An unsettling trend when it comes to these films/novels is that there are so many in the world who flaunt their disgusting choice of cinematic attraction and even encourage others to engage in it as well. While this is what we should expect from the world, it is not something that we would ever come to expect from those who claim to be our brethren. But sadly, that is exactly what outspoken "Christian" NFL Quarterback, Russel Wilson, has done in his own endorsement of the film. "Thanks for the early showing of #50ShadesOfGrey late last night.. #EmeraldCity Great movie," we saw on Wilson's Twitter timeline after seeing the film. But after he received quite a bit of backlash from Christians on his account who disagreed with his ringing endorsement, Wilson tweeted: "Saw a movie filmed in the town I call home. Provocative/disturbing no doubt but that does not make me less Faithful, Have a blessed day"
While Wilson's rebuttal seems to imply he only watched it because it was filmed in his hometown (hard to believe when he said it was a "Great movie"), you would hope that such a great review of what has been called "mommy porn" should be far from the fingertips of the blood-bought believer. But it isn't simply the endorsement of a film like Fifty Shades that should cause us to question the discernment of someone who claims to be a brother in the Lord, but what about when a "pastor" allows their spouse to encourage married couples to watch PORN together! That is exactly what happened at the fellowship in which Paula White claims a pastoral role over. In a conference at her fellowship, Paula White and her husband were suppose to encourage husbands and wives in their marriage. Her rock star husband, Jonathan Cain (Journey), told wives that they should be watching pornography with their husbands so that they can know what he likes sexually. (White did claim that neither her or her husband watch porn, but you can clearly see his encouragement in the video.)
This defilement of the marriage bed is exactly what God warns about, and it is happening behind pulpits! What can we expect from the outside world?
These false prophets are rendering believers useless in their walks with Christ. As J.W. Manhood once said in his classic, The Art of Soul-Winning:
"Much of the timidity and reluctance shown by Christians toward personal work may be traced to a refusal or neglect to live the surrendered life and have the clear assurance of acceptance with God." (J.W. Manhood, The Art of Soul-Winning, Jennings & Graham, 1901, p. 40).
Satan would love to help make you spiritually impotent. An easy way to do this is by keeping you bogged down by sexual sin and keep you from going forward in your walk with Christ. There is nobody on this planet, unless they have so seared their conscious that they can no longer feel it, who feels like waking up and praising the Lord after looking at porn all night. One is not quick to get into the word after leering off into a website they shouldn't be on. The last thing someone wants to do after giving themselves over to the flesh is go out and preach the gospel to a lost and dying world. It was D.L. Moody who said, "The Bible will keep you from sin, or sin will keep you from the Bible." Ain't that the truth! If Satan can bring to you the counterfeit of condemnation, when the Holy Spirit wants to bring to you the power of Holy conviction, that is exactly what he will do. He will entice you into committing the heinous act and tell you that you are damned for doing it! Resist the devil and he will flee from you. Fall under the mighty hand of God and resist. 
This promise of freedom is actually bondage. One of the first steps of rebellion you might see in young kids is the temptation to try something like nicotine. So many kids will see their friends or loved ones doing it and become as curious as George as they try their first puff. While the lighting up of a cigarette may seem like freedom, I'd like you to find a smoker who isn't trying to quit. They are trying to quit because they have experienced it and they know that they are addicted and can't handle going an hour or less without thinking of or having a cigarette. This momentary chance of freedom has led millions of people into bondage and even death. One could liken the difference of knowledge and wisdom from the Surgeon General's warning on the box of cigarettes. You can have knowledge through that information given to you, that if you partake you can get lung cancer, but to practice wisdom would be to not use it because of the knowledge you have gained. Let this article be a "surgeon general's" warning to you concerning Fifty Shades and other forms of pornography. Do not let the little fox ruin your garden. Do not let lust give birth to sin and sin give birth to death.
Whether it be Fifty Shades or any other form of pornography, I pray that you will slay this dragon by the power of the Holy Spirit! We have a two part series that pastor Joe Schimmel went through on the subject of sexual sin and we would love for you to hear it. You can also be encouraged by our article concerning pornography – Pornography Through the Lens of Scripture. Take some time out to pray and we hope that God will use this article and the teachings we have made available to help you slay this spiritual dragon! May God richly bless you as you seek His Face!