A soft cry of "It will all be over soon" introduces the audience to XXXtentacion's song. "I spoke to the devil in miami, he said everything would be fine." But less than 45 miles from where Jahseh Dwayne Ricardo Onfroy, 20, said the devil told him everything would be fine, he was murdered in cold blood leaving a motorcycle dealership. Not all of the details are clear as to whether or not this was a hit, but what is clear is that it was a sad ending to the controversial rapper's life here on Earth. The same devil that apparently told him that "everything would be fine" also told Eve that "you surely will not die!" (Genesis 3:4). Whether Satan literally told him this or he was fooled into thinking he could live a life filled with debauchery and everything would be fine, he was tragically deceived. In the same song, XXXtentacion echoes more of the sentiments of the Genesis encounter with the devil when he says: 
Took a bite of your apple, give me all you can offer
Now I'm trapped in a changing maze
Setting my soul ablaze, couldn't control the pace
The spiritual death that Adam and Eve experienced after eating of the forbidden fruit, which would soon be followed by their subsequent bodily death, was also experienced by this young rapper. Giving into every temptation trapped him into a maze that left him depressed and hoping for his own death. Some of his other songs and tweets give a detailed description of the sad life that Jahseh Onfroy truly lived. Not only did he wish death upon himself multiple times on his Twitter feed, but certain lyrics give us a picture of someone who may have been experiencing demonic oppression and even possession. In his song "schizophrenia" he raps:
There's another mind deep in me
Don't know what's gotten into me
I've seen the other side plentifully
'Til the end I'll, 'til the end I'll fight
There's another mind deep in me
Don't know what's gotten into me
I've seen the other side plentifully
'Til the end I'll, 'til the end I'll fight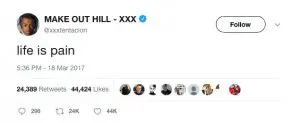 Scripture makes it clear that whether a person is aware of it or not, those who are not the temple of God are the temple of idols/demons (2 Corinthians 6:14-21). While not every person who is unwilling to submit to the will of God is necessarily possessed, they certainly have the ability to be, and are being blinded by the god of this world so that they may not see the light of the gospel of Jesus Christ (2 Corinthians 4:4). In fact, the apostle Paul, in his letter to the Ephesians, tells us that the prince of the power of the air actually works through the sons of disobedience (Ephesians 2:2). Satan will use those who are disobedient to the gospel to do his bidding for him. This battle that we are in is not simply a flesh and blood battle. We are fighting against an enemy that wants to kill us. We should not be arrogant in this battle and we must recognize the futility of man. Scripture tells us that not even the archangel Michael would make a railing accusation against Satan, but proclaimed in his battle "the Lord rebuke you" (Jude 9). This is why (to begin the most commonly quoted text concerning spiritual warfare) we are commanded to "be strong in the Lord and in the strength of His might" (Ephesians 6:10). The very edifice of this warfare is to be entirely dependent upon the Lord's strength and not our own. It's Jesus who tells us "…apart from Me you can do nothing" (John 15:5).
In this battle called life, we are given a choice as to who we will follow. Jesus made it clear that whether we choose to follow Buddha, Allah, Joseph Smith, Charles Darwin, Satan or the idol that we shave each morning, ultimately not choosing Jesus Christ is choosing to be against Him. Jesus warned, "He who is not with Me is against Me" (Matthew 12:30). In the case of this young rapper, it seems like he was given a choice akin to Cain in the Old Testament. Before Cain murdered his brother Abel, God spoke to him and told him, "sin is crouching at the door, and its desire is for you, but you must master it" (Genesis 4:7). XXXtenacion rapped about his own encounter, not with God, but with the devil. He said he spoke to a "Baphomet" who told him the only way he could save him was to give him the "key to evil":
My Lord I spoke to a Baphomet
He said he would save me if I gave you one thing you needed
What is this thing I pleaded?
Boy, it's the key to evil
He then told him:
What you crave will soon be yours

But what I crave is already mine
XXXTentacion gave in to many of the temptations that God warns us about. We are not warned of these sins because God is some cosmic "party-pooper". We are told that He gives us these commands because they are not burdensome (1 John 5:2-3). God is the one who made us and He knows exactly how our engines should be running and the purpose of our creation. Those same people who would decry the so-called prison that believers place themselves in by following Christ are actually slaves to their own wicked desires. They are promised freedom and are given a yoke of bondage. Look no further than this young man as a microcosm to many of the celebrities of our time. They are promised the world and live a life envied by their fans, only for us to find out that they are miserable. Satan has convinced these artists that they want to be famous, while so many of them are swallowed up by their own fame and hate the life that they so fervently believed they wanted. He then has their fans yearning to live the same life as their miserable idols.
Whether music or movies, these stars have tried to warn us of the pitfalls of their fame, but so many choose to look only at the facade. One of the most famous comedians of our time, Jim Carrey, stated, "I think everybody should get rich and famous and do everything they ever dreamed of so they can see that it's not the answer." Movie star Shia LaBeouf also stated that the majority of actors feel the anxiety of insecurity and the pitiful lot that he and his contemporaries are found in: "Most actors on most days don't think they're worthy. I have no idea where this insecurity comes from, but it's a God-sized hole. If I knew, I'd fill it, and I'd be on my way." LaBeouf further stated, "Sometimes I feel like I'm living a meaningless life. I know I am one of the luckiest dudes in America right now. I have a great house. My parents don't have to work. I've got money. I'm famous. But it could all change, man. It could go away. You never know…Why am I an alcoholic? I haven't a (expletive) clue! What is life about? I don't know."
Many of the celebrities and their lifestyles mirror that of king Solomon of Israel. The king who had everything any modern day celebrity could want and more. He had all the riches a man could have, all the fame, all the wisdom, and most of all, all the women. Solomon had 1,000 women as either brides or concubines, used for his pleasure. But he learned:
"If a man fathers a hundred children and lives many years, however many they be, but his soul is not satisfied with good things and he does not even have a proper burial, then I say, 'Better the miscarriage than he, for it comes in futility and goes into obscurity; and its name is covered in obscurity'" (Ecclesiastes 6:3).
Solomon learned that at the end of the day, where you spend eternity is all that matters. In the beginning and end of his book of Ecclesiastes, which aimed to give an answer to the age-old question "What is the meaning of life?" Solomon stated, "Vanity of Vanity all is vanity" (Ecclesiastes 1:2,12:8). In English the word vanity usually is speaking of excessive pride in one's self or in one's appearance, conceit and arrogance. But when King Solomon wrote this in Hebrew, the word he used was "hebel". The roots of the word hebel indicate vapor, fog, steam, breeze or breath, meaning that everything in this life is quickly passing, like a mere breath. Solomon was saying that this is what our present life is compared to eternity.
Sadly, far too many people trade things in this rapidly passing life for their eternal souls. Jesus asked, "What does it profit a man, if he gains the whole world and loses his soul?" (Matthew 16:26). This life is so short compared to eternity, and the choices we make affect the outcome of where we will spend eternity forever. So how do you fill that God-sized hole that the world's biggest celebrities bemoan? With a relationship with the One who made you, that's how. The bible says that you are fearfully and wonderfully made, that He knit you together in your mother's womb, that He knows when you rise up and when you lie down. We are incomplete inside the depths of our being without the God who created us, dwelling in us. The bible says that believers are the temple of God. The people of Christ are His body. We were bought with a price, no higher price, because it was literally the blood of our God! So if we do not look to Him as not only our Author, but also the Finisher of our faith and life, we will live an empty life…searching for other things to fill the void.
Jesus said, "If anyone is thirsty, let him come to Me and drink. He who believes in Me, as the Scripture said, 'From his innermost being will flow rivers of living water" (John 7:37-38). So instead of being a bucket full of holes that constantly needs to be filled with other "things," you will have rivers of living water flow from your innermost being. You will taste of the heavenly gift and be filled with the Holy Spirit of God. "The conclusion, when all has been heard," Solomon concluded "is: fear God and keep His commandments, because this applies to every person. For God will bring every act to judgment, everything which is hidden, whether it is good or evil" (Ecclesiastes 12:13-14).