Today, Satan is using several Hollywood movies like The Craft, The Blair Witch Project and Practical Magic to popularize the occult and allure the unsuspecting prey into his evil web. As a result of such infomercials for the occult, there has been an even sharper rise into the demonic realm as many naive men and women have sought spiritual power without accountability to moral law. Through Ricky Martin's number one hit song, "Livin' La Vida Loca," the glamorization of such power struck a musical chord in the general populace as it glorified the power of the occult, sex and addiction:
She's into superstitions
Black cats and voodoo dolls
I feel a premonition
That girl's gonna make me fall
She's into new sensation
New kicks in the candlelight
She's got a new addiction
For every day and night
She'll make you take your
Clothes off and go dancing in the rain
She'll make you live her crazy life
But she'll take away your pain
Like a bullet to your brain
Upside inside out…
She'll push and pull you down…
Her lips are devil red…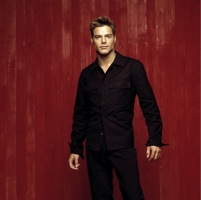 Ricky Martin's music is inspired by occultists. His album, featuring Livin' La Vida Loca, states, "Ricky Martin special thanks: The people I'm about to mention, I consider them warriors. They are all part of my music…Swami Yogananda Giri and his wisdom…To God and guru for guiding me…" It is important to understand that God's word warns that the "gods of the nations are demons."
In his song, Love You For A Day, Martin sings about the end of the world and, in a theme reminiscent of Prince's 1999, Martin sings about how he hopes to be found fornicating on judgement day:
"They say the end is coming soon, I wanna make love till it's over…Let me love you for a day, let me love you for a night…As the count down's getting closer…I wanna be under the covers…"
We are not sure if Ricky Martin is singing about a man or a woman in Love You for a Day, as Martin has refused to go on record as to whether or not he is a closet homosexual or not.
UPDATE: On March 29, 2010, Ricky Martin personally posted on his official website, "I am proud to say that I am a fortunate homosexual man. I am very blessed to be who I am."
Martin did admit however, that even as a boy when he was with Menudo, "We had groupies." He went on to say that one reason he was in Menudo was for the girls and, "I stopped being a virgin when I was fourteen…" God's word warns young people:
"Remember your creator in the days of your youth, before the days of trouble come and the years approach when you will say, 'I find no pleasure in them'…Fear God and keep his commandments, for this is the whole duty of man. For God will bring every deed into judgement, including every hidden thing, whether it is good or evil." –Ecclesiastes 12:1, 13b-14