So-Called Christian Blogger Glennon Doyle Melton in Gay Relationship With USA Soccer Legend Abby Wambach: When "Christian" Isn't Really Christian.
As B.B. Warfield once rightfully said:
"If everything that is called Christianity in these days is Christianity, then there is no such thing as Christianity. A name applied indiscriminately to everything, designates nothing." –Benjamin B. Warfield, The Princeton Theological Review, Volume 14 (London: Humphrey Milford, 1916), p. 199
What was once used as a name of reproach for those who were followers of Jesus Christ (Acts 11:26, Acts 26:28, 1 Peter 4:16) is now a fluid term used to denigrate the conservative, assign to murderers, and is even used to elevate the liberal.
Need any evidence? Look no further than the latest headlines for soccer star Abby Wambach's newest lesbian love interest, Glennon Doyle Melton. Melton, the self-proclaimed "Love Warrior" is an author and blogger whose career took flight after a blog post titled, "Lesson #2: Don't Carpe Diem" from her website "Momastery" went viral. (Source) Glennon uses the blog to encourage mothers, talk about her day-to-day life and, of course, push liberal ideology. In an August 1, 2016 post, Glennon announced her split with the father of her 3 children after learning of his infidelity.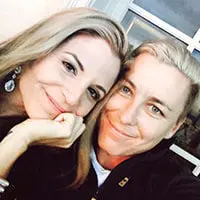 The New York Times Best-Seller did not wait all that long to fall in love, and this time it was with another woman. In a Facebook/Instagram post, which went viral and was picked up by many of the major news sites, she announced her relationship with the United States all-time leading goal scorer in international soccer, Abby Wambach. She says that her ex-husband is completely supportive of their relationship and that they have already made the Olympian and World Champion a part of what she calls their "modern family".
Glennon is admittedly someone who has struggled with everything from alcohol and drugs to eating disorders and a broken heart. She seems to be quite influential and will no doubt grow in popularity from her latest change in sexuality and the high-profile person she is dating. From reading her blog posts, one can see that she is tragically pushed around by every wind of doctrine and trusts in her own heart rather than taking every thought captive to the obedience of Christ (2 Corinthians 10:5).
To see such a broken person live out this lie for all to see is heartbreaking for her and those who hear her. Please pray for those who may be swayed by her writings and for her to come into a saving relationship with Jesus Christ. Surely God's arm is not too short to save, nor is His ear to dull to hear. We have a God that takes no pleasure in the death of the wicked and is still in the business of bringing the dead back to life. Pray that she would turn her will over to the Lord and not lead anyone astray into thinking that they can live in their sin and enter God's Kingdom. For that is the very thing that God warned would be a deception:
"Or do you not know that the unrighteousness will not inherit the kingdom of God? Do not be deceived; neither fornicators, nor idolaters, nor adulterers, nor effeminate, nor homosexuals […] will inherit the kingdom of God." (1 Corinthians 6:9-10)
That means her unfaithful husband, just as much as Glennon and Abby, need to repent of their sins. Not only is our God gracious enough to give us such a clear warning, but in His lovingkindness reminds us of the beauty of salvation in the very next verse:
"Such were some of you; but you were washed, but you were sanctified, but you were justified in the name of the Lord Jesus Christ and in the Spirit of our God." (1 Corinthians 6:11)
Praise God many of us are in the "such WERE" camp, we can only hope that Glennon and Abby will be joining us one day!