Rock Stars, Depression and Suicide…Is There A Connection?
The recurring headline continues on the front page of every news outlet as another rock star, Linkin Park's Chester Bennington, comes to his end by the work of his own hands. The singer, who battled a drug and alcohol addiction throughout much of his career, hanged himself at his home in Palos Verdes, California at the age of 41. While many are now speculating the reason why Chester would leave behind his 6 children, the manner in which it mirrors the death of fellow frontman and longtime friend, Chris Cornell (Soundgarden, Audioslave), may give a hint as to why he chose to take his own life. Chester not only wrote a tear-filled letter to Cornell post mortem, but even played Leonard Cohen's "Hallelujah" at his funeral. Bennington's suicide also came on what would have been Chris Cornell's 53rd birthday.
Two months prior to Chester's undoing, Cornell had killed himself in an eerily similar manner. Only four hours after playing to a large crowd of fans at the Fox Theatre, Cornell took his own life at the MGM Grand hotel he was staying at in Detroit. Before Chester's death, Linkin Park was set to embark on their next world tour. Much like Mr. Bennington, Cornell battled through addiction and depression throughout his career, but ultimately lost the battle when he used a resistance exercise band to hang himself.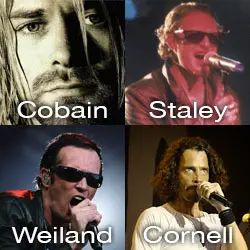 The entangled weave of addiction and depression that Satan helped to manifest through a guitar and in a few dark hooks has become the undoing of so many of artists. Whether it is Chester Bennington (Linkin Park), Chris Cornell (Soundgarden), Kurt Cobain (Nirvana), Layne Staley (Alice in Chains), Scott Weiland (Stone Temple Pilots) or others, the interconnection of these artists and their ultimate destruction could only be described as something spiritual. Whether it was via drugs or suicide, there is a sinister thread that the enemy has used to not only influence young people with the "live hard/die fast" lifestyle of many of these rockers, but that he has used to destroy the very "prophets" that they became to so many people.
When it comes to Cornell, Chris knew of the tremendous effect that his music could have on young people and admitted to becoming surrogate prophets for the spiritually malnourished. In an interview with Spin Magazine he was asked about those leaving their religious backgrounds:
SPIN: Don't you think that there is a ritualistic, religious quality rock stars have that makes them surrogate prophets for spiritually malnourished youth?
Cornell: Whether they like it or not, probably, yeah. For the most part, that's where people are going to turn, especially at that age. So a lot of times it's going to mean being the most outrageous or most shocking to that young person's role models up to that point. Sometimes it's good, sometimes it's bad…" (Source)
One can only imagine the adverse effect that these artists may have had on their fans, when their own friends are moved to commit suicide in like-manner when coming face-to-face with the reality that their hero has done the same. With the suicide rate of children ages 10-14 rising 150% since 1980, it would not be far-fetched to believe that the copious amounts of time spent meditating on depression has had an effect. Brain Specialist Dr. Richard Pellegrino once said, ""Take it from a brain guy. In 25 years of working with the brain, I still cannot affect a person's state of mind the way that one simple song can." Think about that the next time you walk onto a college campus and there isn't a student without the latest Beats headphones in his ear listening to his favorite song. You then realize that suicide has become the second leading cause of death amongst college students age 18-22.
Many of these artists paint a picture of their struggles within their lyrical content. They sing and dance to the very things that are killing them inside. Depression, anger, suicidal thoughts, drugs, alcohol, and questions of our ultimate end abound within the confines of much of their music. Believers are called to dwell on things that are true, honorable, right, pure, lovely, and praiseworthy (Philippians 4:8), not things that are impure, unholy, depressing, and profane. We have been commanded to love God with all of our heart, soul, mind and strength and yet far too many meditate more on that which God hates than His word.
Although many of Linkin Park's fans came to love them through their angst-filled anthems like "Numb", "In the End", and "One Step Closer", their latest album, One More Light was filled with what Chester called, "dark" lyrics, under the melody of "uplifting core progressions" (Source). In a song from their latest album, titled "Nobody Can Save Me", Chester begins the song by stating that he is "dancing with my demons". He laments that he is "Chasing up the darkness inside" and that "Nobody can save me" until he comes to the realization that only he can save himself. He cries out, "Tell me I'm forgiven, tonight, But nobody can save me now" until the end when he sings "Tell me I'm forgiven tonight, And only I can save me now." Chester, much like Cornell, looks to have have been looking for a hero to save him, but was unwilling to come to Jesus that he may have life. While we cannot know what their final thoughts were before they died, we do know for certain that these songs that are sung and meditated on by millions of people do nothing to lead anyone to the answer that will truly save them. They now remain a sad epitaph on a life that was short-lived and taken by their own hands.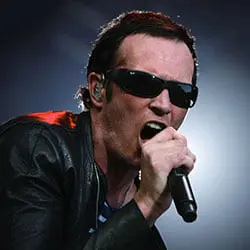 Another artist that has been brought up in conversation with the deaths of Cornell and Chester is singer Scott Weiland. Weiland was the lead singer of Stone Temple Pilots and Velvet Revolver. Both Cornell and Chester were fans of Weiland, and Cornell even sang a tribute song to Weiland in a show in Melbourne, Australia. Stone Temple Pilots was a favorite of Chester and he would eventually fulfill his dream of becoming their lead singer in 2013 when Scott was fired from the band. While STP and Weiland began legal proceedings and had a tenuous relationship, Scott and Chester's relationship was not effected by him taking over for him because he did not believe that Chester joined to spite him, but rather, because he idolized Scott and STP. But Scott would end his own life in a different manner. While Cornell and Chester chose to hang themselves, Scott did so by his abuse of drugs in December of 2015. In the wake of his death, his wife wrote a powerful article for Rolling Stone Magazine as a warning to his fans. In it, she encourages others not to glorify this tragedy:
"Noah and Lucy, has been overwhelming, appreciated and even comforting. But the truth is, like so many other kids, they lost their father years ago. What they truly lost on December 3rd was hope … But at some point, someone needs to step up and point out that yes, this will happen again – because as a society we almost encourage it. We read awful show reviews, watch videos of artists falling down, unable to recall their lyrics streaming on a teleprompter just a few feet away. And then we click "add to cart" because what actually belongs in a hospital is now considered art. Many of these artists have children. Children with tears in their eyes, experiencing panic because their cries go unheard." (Mary Forsberg Weiland, "Scott Weiland's Family: 'Don't Glorify This Tragedy'", RollingStone.com, December 7, 2015)
"You might ask, 'How were we to know? We read that he loved spending time with his children and that he'd been drug-free for years!' In reality, what you didn't want to acknowledge was a paranoid man who couldn't remember his own lyrics and who was only photographed with his children a handful of times in 15 years of fatherhood. I've always wanted to share more than anyone was comfortable with. When writing a book years ago, it pained me to sometimes gloss over so much grief and struggle, but I did what I thought was best for Noah and Lucy. I knew they would one day see and feel everything that I'd been trying to shield them from, and that they'd eventually be brave enough to say, "That mess was our father. We loved him, but a deep-rooted mix of love and disappointment made up the majority of our relationship with him. Even after Scott and I split up, I spent countless hours trying to calm his paranoid fits, pushing him into the shower and filling him with coffee, just so that I could drop him into the audience at Noah's talent show, or Lucy's musical. Those short encounters were my attempts at giving the kids a feeling of normalcy with their dad. But anything longer would often turn into something scary and uncomfortable for them. Spending so many years immersed in Scott's multiple illnesses led to my own depression; at one point, I was misdiagnosed as bipolar. I feared the same would happen to the children. There were times that Child Protective Services did not allow him to be alone with them." (Ibid.)
Read Joe Schimmel's article about Scott Weiland and his death >>
Weiland's wife taking a stand and asking people not to glorify the death of Weiland is as tragic as it is important. More people need to recognize the devastation and destruction that is left behind in the wake of these deaths, whether by drugs or suicide. We need to recognize the real message that we are receiving when we listen to their music.
The final message that Cornell gave to his fans seems to have been a foretelling of what he was about to do alone in his hotel room. Just hours before he took his own life, he sang the song "Slaves and Bulldozers". While the normal version of this song has very little to say about death, the lyrics that he added into the song tell a much deeper tale. Cornell added lyrics from one of his favorite bands, Led Zeppelin. The song, "In My Time of Dying", was a song that had a lot of parallels with Cornell's hit "Like a Stone" which he wrote and performed with Audioslave. Both songs deal with the end of life and what will help them to get to a "better place". Both emphasize a "hope" that their good works will lead them to Heaven.
"In My Time of Dying" by Led Zeppelin
Oh, Saint Peter, at the gates of heaven…
Won't you let me in I never did no harm
I never did no wrong
Oh, Gabriel, let me blow your horn
Let me blow your horn
Oh, I never did, did no harm.
I've only been this young once
I never thought I'd do anybody no wrong
No, not once
In "Like A Stone" by Audioslave, Cornell sings:
On my deathbed I will pray
To the gods and the angels
Like a pagan to anyone
Who will take me to heaven
When asked what this song meant, Cornell stated, "The short version is some guy sitting in a hotel room, contemplating death and where you go and what it means and all the different possibilities of that and kinda coming up with an image that he liked. Like going with a philosophy of umm maybe when you die and you have been good enough in your life than you get to go to somewhere in your life that you remember that was really cool" (Source at 4:46)
Tragically, Cornell had bought into the lie that Heaven is a place where people go if they are "good" in comparison to other people, rather than the laws of Christ. Jesus made it abundantly clear in Luke 7:9-10 that even those who do what is commanded of them are not worthy of some sort of gift, but have simply done what they have been told to do. But the fact is, not only have each and every one of us not done what we have been told to do, we have done the things that God has told us not to do. We have gone against the conscious that bears witness against us and committed crimes against the law that God has written on our hearts and turned away from the conviction that the Holy Spirit has brought to Earth concerning sin and righteousness. The way God's word puts it is this, "there is none good, no not one" (Romans 3:12). Jesus tells us that God alone is good (Mark 10:18). We are told in Isaiah 53 and Romans 3 that "all like sheep have gone astray" and that "all have fallen short of the glory of God." We are in desperate need of a Savior! Our works will not get us anywhere. For the wages of sin is death. Sin is anything that goes against the laws that God Himself has made. Every single time we do this, whether it is by idolatry (putting something in front of God) or by lust, we are storing up judgement for ourselves and the wage that we are earning is death. But God does offer us a payment for these offenses! He offers us a cure of our sinful disease! God's word tells us "For while we were still helpless, at the right time Christ died for the ungodly" (Romans 5:6-8). You see, not only is God a perfect judge, judging us for the crimes we have committed against Him, but He is also love and has provided the ultimate sacrifice for us in the person of Jesus Christ. He went to the cross and paid the fine that was do our name. We committed the crimes and He received the judgement. What we are called to do is repent and turn to Jesus. To repent means to have a change of heart which leads to a change of action. We have been designed with a purpose to worship. If we do not worship the Lord, we will find something else to worship. Far too often, men wake up every morning and shave the god that they worship in the mirror. They will follow and become enamored with celebrities, sports players, artists, and a myriad of other things that take the place that God has designed for Him and Him alone. We trade the living water for a broken cistern that cannot hold water. We implore you to turn your heart over to Jesus Christ and fall on your knees before God. Repent, believe, and be saved today!