As tragic as it is ironic, on the very page of Rolling Stone Magazine online, where Mary Forsberg Weiland, ex-wife of now deceased pop star Scott Weiland, laments the fact that a large segment of society encourages their pop idols to live in the fast lane and then glorify their deaths when they crash and burn, true to form, Rolling Stone links to a montage titled "Scott Weiland: A Photo History of His Wild Life." (Source)
Weiland was found dead on his tour bus just before he was scheduled to go on stage with his band The Wildabouts. Weiland founded and fronted the Stone Temple Pilots, one of the most popular grunge bands of the 1990s and abused drugs throughout his career. Scott Weiland & The Wildabouts' guitarist, Jeremy Brown, died earlier in 2015 at the age of 34 due to "multiple drug intoxication" the day before the release of their album Blaster.
Mary Forsberg Weiland, while thankful for those who are praying for her and the two teenage children he left fatherless, Noah, 15, and Lucy, 13, chastened many of Weiland's fans who would relish in his death as though it was a cool thing for a rock star to die prematurely. In a letter that Mary wrote with the help of her children, she warned:
"Noah and Lucy, has been overwhelming, appreciated and even comforting. But the truth is, like so many other kids, they lost their father years ago. What they truly lost on December 3rd was hope … But at some point, someone needs to step up and point out that yes, this will happen again – because as a society we almost encourage it. We read awful show reviews, watch videos of artists falling down, unable to recall their lyrics streaming on a teleprompter just a few feet away. And then we click "add to cart" because what actually belongs in a hospital is now considered art. Many of these artists have children. Children with tears in their eyes, experiencing panic because their cries go unheard." (Mary Forsberg Weiland, "Scott Weiland's Family: 'Don't Glorify This Tragedy'", RollingStone.com, December 7, 2015)
Satan makes riding the fast lane of drugs seem so cool at first, but in the end it is a one-way street to eternal death. However, death comes in different forms. Death is separation. When one's spirit is separated from God they experience spiritual death. When one's spirit leaves their body they experience physical death. But long before Scott Weiland experienced physical death, his relationship with his wife and children died first. Only those who have lost loved ones to one vice or another realize how tragic the end is for those who glorify sex, drugs and rock n roll. Mary went on to express the deep grief she experienced in the deathly separation her and her children experienced when Scott was still physically alive: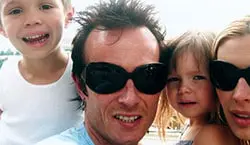 "You might ask, 'How were we to know? We read that he loved spending time with his children and that he'd been drug-free for years!' In reality, what you didn't want to acknowledge was a paranoid man who couldn't remember his own lyrics and who was only photographed with his children a handful of times in 15 years of fatherhood. I've always wanted to share more than anyone was comfortable with. When writing a book years ago, it pained me to sometimes gloss over so much grief and struggle, but I did what I thought was best for Noah and Lucy. I knew they would one day see and feel everything that I'd been trying to shield them from, and that they'd eventually be brave enough to say, "That mess was our father. We loved him, but a deep-rooted mix of love and disappointment made up the majority of our relationship with him. Even after Scott and I split up, I spent countless hours trying to calm his paranoid fits, pushing him into the shower and filling him with coffee, just so that I could drop him into the audience at Noah's talent show, or Lucy's musical. Those short encounters were my attempts at giving the kids a feeling of normalcy with their dad. But anything longer would often turn into something scary and uncomfortable for them. Spending so many years immersed in Scott's multiple illnesses led to my own depression; at one point, I was misdiagnosed as bipolar. I feared the same would happen to the children. There were times that Child Protective Services did not allow him to be alone with them." (Ibid.)
Mary went on to state that Scott Weiland's becoming an atheist created even more distance between him and his children. In her hurt for other children who are experiencing the same pain, she encouraged others to reach out to the countless children who feel abandoned by those who are suppose to be showering them with love:
"Our once sweet Catholic boy refused to watch the kids participate in Christmas Eve plays because he was now an atheist. They have never set foot into his house, and they can't remember the last time they saw him on a Father's Day. I don't share this with you to cast judgment, I do so because you most likely know at least one child in the same shoes. If you do, please acknowledge them and their experience. Offer to accompany them to the father-daughter dance, or teach them to throw a football. Even the bravest girl or boy will refrain from asking for something like that; they may be ashamed, or not want to inconvenience you. Just offer – or even insist if you have to." (Ibid.)
Mary ended her letter by warning Scott Weiland's fans not to glorify his rock music, demons and death, but to use their time and resources to reach out to kids who are in desperate need of love and direction:
"Over the last few years, I could hear his sadness and confusion when he'd call me late into the night, often crying about his inability to separate himself from negative people and bad choices. I won't say he can rest now, or that he's in a better place. He belongs with his children barbecuing in the backyard and waiting for a Notre Dame game to come on. We are angry and sad about this loss, but we are most devastated that he chose to give up. Noah and Lucy never sought perfection from their dad. They just kept hoping for a little effort. If you're a parent not giving your best effort, all anyone asks is that you try just a little harder and don't give up. Progress, not perfection, is what your children are praying for. Our hope for Scott has died, but there is still hope for others. Let's choose to make this the first time we don't glorify this tragedy with talk of rock and roll and the demons that, by the way, don't have to come with it. Skip the depressing T-shirt with 1967-2015 on it – use the money to take a kid to a ballgame or out for ice cream." (Ibid.)
The tragic truth is that millions of kids have been growing up under the influence of rock and Hollywood idols that the liberal media parades before them 24/7. Confessed Satanist Marilyn Mason warned, "If somebody kills themselves because of our music, then that's one less stupid person in the world…Raise your kids better or I'll be raising them for you." (Marilyn Manson, RIP Magazine, February, 1995).
May God bring us the conviction and give us the grace to train up our children according to the nurture and admonition of the Lord, so that when they are older they will not stray from the ancient path. God warns that in the last days there will be those without "family love" (2 Timothy 3:3, Greek ἄστοργος astorgos, from a = without + storgē = family love: "without family love"), and those whose hearts will turn back to the children:
"Behold, I am going to send you Elijah the prophet before the coming of the great and terrible day of the Lord. He will restore the hearts of the fathers to their children and the hearts of the children to their fathers, so that I will not come and smite the land with a curse." –Malachi 4:5-6
Notice that the hearts of the fathers are turned to the children before the hearts of the children are turned to the fathers. We should never wait until our children love us before we love them. May we invest our time, talent and treasure into their lives. May we seek the Lord now so that we are not in need of being corrected. Let us pray that the Lord becomes a father to the fatherless and for fatherless children like Noah and Lucy that they would come to know the Lord. Let us pray for the millions of children who desperately need the Lord and the gospel of God's glorious Son, Jesus Christ, who gave His life to pay for their sins and rescue them from the power death and the devil:
"But we do see Him who was made for a little while lower than the angels, namely, Jesus, because of the suffering of death crowned with glory and honor, so that by the grace of God He might taste death for everyone. … Therefore, since the children share in flesh and blood, He Himself likewise also partook of the same, that through death He might render powerless him who had the power of death, that is, the devil." –Hebrews 2:9, 14
"For this purpose the Son of God was manifested, that he might destroy the works of the devil." –1 John 3:8