Screenwriter and director, Billy Wilder, has had an enormous impact on the public, as substantiated by his numerous Oscars and other film awards. Responsible for famous films like Hold Back the Dawn, Five Graves to Cairo, Double Indemnity, The Lost Weekend, Sunset Boulevard, Stalag 17, and Sabrina and The Apartment, Wilder's cinema successes were granted him as he was just another pawn who was utilized with satanic acumen to help abolish society's established code of ethics. His own authorized biographer who worked closely with him, Maurice Zolotow, wrote:
"Of course, I did not know what I was getting into when I had started this. It became, as all such journeys have become, a journey to find out the secret springs of this most devious and perverse of Hollywood's personalities."
Wilder loved to transport the viewer into the depravity of his own heart and did this by tricking the censors who sought to enforce the old Hollywood Production Code of Hollywood's "Golden Age." Wilder recalls, "We had to operate cunningly to outwit the censors and this made us write more subtly." What subtleties did he scatter throughout his films? Perversion. In his movie, The Major and the Minor, Wilder admits that the motif was child sexuality, stating: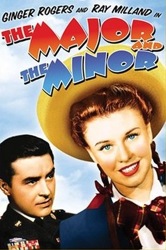 "Ray Milland falls in love with Ginger as a twelve year old child. We had here the first American movie about pedophilia. The Major is sexually aroused by her. He can't help himself. I was worried that audiences would be shocked by this story, but it seems that they were not."
This goes to show that if a story is entertaining and "cute," it can bypass the normal reaction to such filth and translate into apathetic disregard on the slippery slope of corruption. Where did this movie minister of perversion receive his material? Wilder was given his creative material by another supernatural force. In addition to stating that he is "demonically possessed and slightly crazed," Zolotow reports of Wilder:
"He could not stop his creative machinery from functioning. He was enslaved by his art…One sometimes felt as if one were moved by powerful invisible forces. I forgot to tell you that Wilder never starts a new screenplay without typing two words on the first page: Cum Deo ('With God'). He has a pantheistic feeling about the universe."
Demon possession leads many from the truths of God to the pantheistic lies of the New Age movement because Satan uses those who will serve him most faithfully in preparing humanity to embrace him as the god of this world. (2 Corinthians 4:4 ) Wilder's responses upon completion of his show make it readily apparent which god he aligned himself with. Scientologist screenwriter of the Sound of Music, Ernest Lehman, recalls: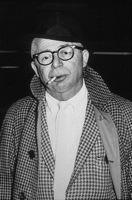 "He looked at the heavens and screeched F— you!" It was…a victory cry, as if he were calling out to God and saying, 'I completed this picture despite everything you did to make me surrender.'"
Satan's lies militate with heart soul mind and strength against the truth of God and audiences become guinea pigs to lay their foundations. Dr. Lycurgus Starkey rightly announced on the NBC network: "His movies have overturned all the sexual mores, glorified promiscuity, glamorized prostitution and elevated adultery to a virtue." Dr. Starkey was prophetically right in predicting the social effect and outcome of Wilder's films that we currently face in our day. The atheist author of communism, Karl Marx, explains the reasons why this is so:
"The ideas of the ruling class are, in every age, the ruling ideas: i.e., the class which is the dominant material force in society is at the same time its dominant intellectual force. The class which has the means of material production at its disposal, has control at the same time over the means of mental production."
The gross immorality in Hollywood that makes its way on the screen and thus influences the masses reflects the lives of those who operate within it. An intimate friend of the late Steve McQueen related:
"He'd kill for a part in a movie…he'd suck anyone's [expletive]…he'd get f—– or f— anyone who'd get him a part in a show…then he'd wish-he'd pray- that person would have a heart attack or a stroke and die, and then there would be no way for anyone to know how McQueen had got the part."
This disgusting ambition is what keeps the infamous casting couch warm and desirous hopeful actors willing. Hollywood insider, Phyllis Diller, clarifies this fact: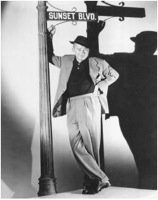 "The casting couch is the name of the game in Hollywood. I know there are stars, especially women, who have made a career from sexual favors."
Would you invite a person whom you knew to be ethically bankrupt and an absolute moral degenerate into your home to influentially instruct your wife, your husband, and your children or loved ones? These are the very ones that America invites into their home every night via the television to submissively share their lives with.
Biblically condemned spiritual conundrums regularly occur in Hollywood. Faye Dunaway said that the ghost of Joan Crawford is haunting her. Actress Jean Seberg believed that her "devils" kept her from ever being free. She stated:
"The devils will stop that sort of stuff in a second. They ride right here. (Touching her collar bone with her fingers) Sitting here and here. There's one on each side…these are both unfriendly influences. They tell me to run my car into other cars, or drive off a cliff."
A friend later reflected on her life and pin pointed the cause as the "acting classes at Columbia Studios…[which] had the power to influence Jean's devils." Like countless others in the Hollywood movie star system, this lead to psychiatric hospitals and suicide. Actor Sal Mineo was in regular contact with psychics and spoke of the "vibrations" of James Dean's spirit that haunted him, stating, "I've got to get him off my back because I don't want to join him down there." Mineo was murdered under mysterious circumstances. Is fame worth the extorted fees that Satan demands of his servants of the silver screen? As Alan Alda declared: "There's plenty of money to be had…But you also lose your soul." Jesus said:
"If anyone would come after me, he must deny himself and take up his cross and follow me. For whoever wants to save his life will lose it, but whoever loses his life for me and for the gospel will save it. What good is it for a man to gain the whole world, yet forfeit his soul? Or what can a man give in exchange for his soul?" –Mark 8:34-38
The answer is nothing. Nothing is as important as our immortal life. The very thing that Satan seeks to snatch from being ours though mortal Hollywood. Stay tuned to the Lord and not the television to make your calling and election sure (2 Peter 1:10 ) and become solidified in Him.